Fotografije s putovanja u Carigrad – Postcards from Istanbul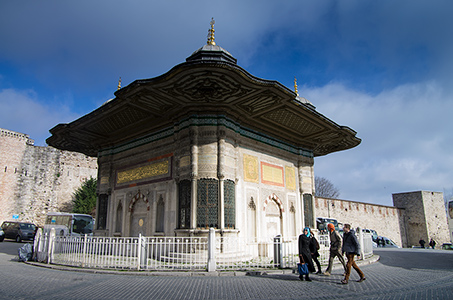 Česma Ahmeta III pored ulaza u palaču Topkapi- Fountain of Ahmet III near Topkapi Imperial Gate
Moji utisci s putovanja
Boravak u Istanbulu trajao je četiri dana. U organizaciji agencije Integral Zagreb putovali smo avionom i bili smješteni u hotelu blizu metro linije (stanica Laleli Universite). Vodič je bio izvrstan (Denis), dao nam je puno informacija, od općih do povijesnih. Također, pohvala ljubaznoj posadi Turkish Airlines-a na odličnoj usluzi tijekom leta.
Istanbul je ogroman grad, prepun ljudi i automobila u stalnom gibanju. Obišli smo sve značajnije džamije (Aja Sofija, Plava džamija, Džamija Sultanija, Džamija Mihrimah na azijskoj obali), posjetili Topkapi palaču i Dolmabahšče palaču, Grand Bazar, Spice Bazar, Basilica Cistern, Hipodrom, plovili smo Bosporom, vidjeli Galata kulu i ručali na Galata mostu.
Hrana je svuda izvrsna, preporučujem Pudding Shop (Lale Restorant) u blizini Sultanahmet trga. Od Trga Taksim šetnicom Istiklal Caddesi prema Galata kuli, osim malog crvenog tramvaja koji ide u oba smjera te pored puno trgovina, može se s lijeve strane naići na restoran sa sarajevskim ćevapima. Malo dalje s iste strane te glavne ulice, nalazi se lijepa crkva Svetog Ante Padovanskog.
Točan broj stanovnika Istanbula nije poznat (oko 13 milijuna), ali većina živi na europskoj strani. U gradu ima preko dvije tisuće džamija. Taksiji su žute boje, poneki nemaju uključen taksimetar, tako da cijene mogu biti raznolike. Baklave su odlične, najčešće posute pistacijima.
My impressions from the trip
Staying in Istanbul lasted four days. Within the organization of Integral Zagreb we traveled by plane and were accommodated in a hotel near a metro line (station Laleli Universite). Our guide  (Denis) was excellent, gave us a lot of information, from the general to the historical. Also, commendations to kind crew of Turkish Airlines on excellent service during the flight.
Istanbul is a huge city , full of people and cars in constant motion . We visited all the major mosques ( Hagia Sophia , the Blue Mosque , Sultana Mosque , Mihrimah Sultana Mosque on the Asian shore), we visited the Topkapi Palace and Dolmabahsche Palace , Grand Bazaar , Spice Bazaar , Basilica Cistern , Hippodrome , we sailed Bosporus , see the Galata tower and had lunch at Galata bridge .
The food is all excellent.  I recommend Pudding Shop ( Lale Restorant ) near Sultanahmet Square . From Taksim Square in  Istiklal Caddesi walkway to Galata tower  you can visit  a lots of shops an you can see the little red tram which goes in both directions . At the half way down there is a beautiful church of St. Anthony of Padua .
The exact number of Istanbul inhabitants  is unknown ( more than 13 million ) , but most live on the European side . The city has over two thousand mosques. Taxis are yellow , some do not turned on the meter , so that prices can be varied . Baklava cake are excellent , usually sprinkled with pistachios.