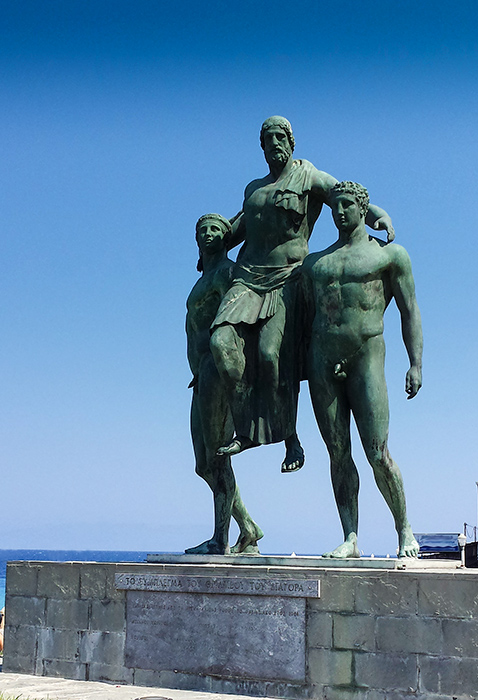 Diagoras na ramenima svojih sinova nakon treće osvojene Olimpijade/Diagoras on the shoulders of his sons after he third won the Olympics
Rodos, Grčka
Ove smo godine moja supruga i ja s prijateljima odlučili otići na dvotjedno ljetovanje u Grčku, na otok Rodos. To je otok za koji se od davnine kaže da je posvećen bogu sunca Heliosu. I doista, za ta dva vruća tjedna, od 8. do 22. kolovoza 2014. godine na nebu nije bilo oblačka. Doletjeli smo avionom iz Ljubljane na aerodrom grada Rodosa, Diagoras. Smjestili smo se u hotel Kipriotis (***) čija je plaža udaljena manje od sto metara, a od centra starog grada Rodosa udaljen je manje od kilometra hoda. Tako smo u obilazak grada odlazili nekoliko puta, dopodne, poslijepodne i u večernjim satima. Stare zidine i kule doista su impozantne veličine i predstavljaju jedno od najljepših nasljeđa srednjovjekovne gradnje, čemu možemo zahvaliti vitezovima križarima reda Svetog Ivana. Otok je najbolje upoznati vožnjom autom do antičkih nalazišta, manastira, ribarskih sela, plaža i izletišta. Tako smo i mi unajmili auto u dva navrata, prvi puta na tri dana, a zatim na dva dana. Obzirom da je otok orijentiran sjeveroistok – jugozapad, jednostavno je odabrati putovanje istočnom obalom (Mediteran) ili zapadnom (Egejsko more) ili unutrašnjim dijelom otoka koji također nudi različita iznenađenja putovanjem vijugavim cestama, kroz brdovite i šumovite krajolike, na poznate lokacije smještene na većim nadmorskim visinama (800 m). Inače, najviša planina je Ataviros, visoka je 1.215 m. Otok je dug oko 80 km, a širok oko 38 km. Ukupna duljina obale je 220 km. Obišli smo antički Kamiros, svetište Kremasti, Filerimos, dolinu leptira, Kastellos, Monolithos, Sianu, Prasonisi, plaže Kalitheau i Faliraki, Manastir Tsambiku, Stegnu, Feraklos, Lindos, Epta Piges, Plimiri, Mt Profitis Ilias i Psinthos.
Rhodes, Greece
This year we my wife and I decided to go with our friends to a biweekly holidays in Greece, on the island of Rhodes. It is an island which is always been said to be dedicated to the sun god Helios. Indeed, these two hot week, from 8 to 22 August 2014, on the sky was not possible to see any clouds. We flew by plane from Ljubljana airport to the town of Rhodes, airport Diagoras. We settled into the hotel Kipriotis (***), whose beach is less than a hundred meters far and the center of the old town of Rhodes is situated less than a kilometer away. So we went on a tour of the city several times, at morning, afternoon and evening. The old walls and towers are truly impressive in size and represent one of the most beautiful medieval heritage built by the Knights Crusaders, Order of St. John. The island is best to explore by car. This is easiest way to access to ancient sites, monasteries, fishing villages, beaches and resorts. So we rented a car twice, the first time for three days, and then for two days. Since the island is oriented northeast – southwest, it is simply to try the journey from east coast (Mediterranean) or west (Aegean Sea) or through the inner part of the island, which also offers various surprises. Journey along winding roads through mountainous and forested landscapes, you can visit the famous site located at higher elevations altitude (800 m). Otherwise, the highest mountain is the Ataviros (1,215 m high). Island of Rhodes is about 80 km long, about 38 km wide. The total length of coastline is 220 km. We visited the ancient Kamiros, sanctuary Kremasti, Filerimos, Butterfly Valley, Kastellos, Monolithos, Siana, Prasonisi, Kalithea and Faliraki beach, Tsambika Monastery, Stegna, Feraklos, Lindos, Epta Piges, Plimiri, Mt Profitis Ilias and Psinthos.